2022 Small Business Series: Employment & Labour Laws - Protecting your Business
2022 Small Business Series: Employment & Labour Laws - Protecting your Business
November 23, 2022 (12:00 PM - 1:00 PM) (MST)
Description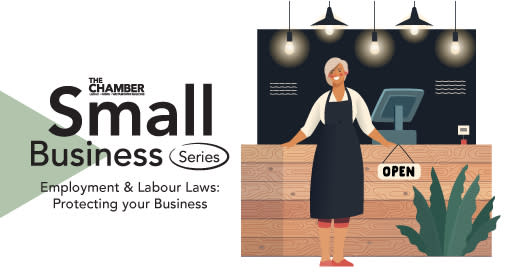 JOIN US to learn about Employment-related issues and risks that are relevant to all businesses – regardless of size, industry, or stage. This presentation will provide an overview of an employer's key obligations with respect to its employees, identify common areas of concern, and describe helpful tips to protect your business. Topics covered will include:
Differentiating between employees and independent contractors and why it matters
Must-have's and common mistakes found in employment agreements and independent contractor agreements, including in relation to termination
Best practices related to statutory obligations including in relation to human rights and the duty to accommodate.
Presented by: Sarah Huot & Tayler Meagher, Bennett Jones LLP

LOCATION: Zoom

DATE/TIME: November 23, 2022
12:00 - 1:00 pm: Program

TICKETS:
Members: Free
Non-members: $20 + GST. Not yet a member? Learn more HERE

Ticket-less event; once registered you are on the guest list.
Payment is required upon registration.
Sponsors
PARTNER
Virtual

November 23, 2022 (12:00 PM - 1:00 PM) (MST)
Categories
Continuing Education
Chamber Of Commerce
Community